Narellan 4648 1555 | Corrimal 4283 7972 | Warllla 4295 1311 | Peakhurst 9584 2777 | Cabramatta 9724 0771
Blair's Tyres – a one stop shop
Over the past 35 years, Blair's Tyres have expanded our locations and our services.
We can help you with logbook services as well as general services and repairs. And with each service you get a free battery check and fitting.
Also, by servicing your new car at Blair's Tyres, using genuine parts, you retain your new car warranty.  And if it is registration time we offer the convenience of E-safety rego checks.
Tyres and Wheels
Tyres
We can help you with quality brands at cheap prices for new tyres or retreads and we can talk to you about air or nitrogen in your tyres.
If you're into racing we can provide wet weather or racing tyres and if you're not, we've got the best range of road tyres. Check out our tyre catalogue for the best brand for your car.
Wheels
Our wheels will add that glamour and signature to your car, ute, van or light commercial vehicle. We understand the impact great wheels have for the look of your car and that's why we regularly update our stock.
We want you to have the choice amoungst the really outstanding wheels on the market. Check out our wheels catalogue and make your choice.
Wheel Alignments and Wheel Balancing
Wheel Alignments
Because your vehicle's wheels should be perpendicular to the ground and parallel to each other Blair's Tyres can adjust the angles of the wheels for you.

This is an important service offered by Blair's Tyres because a properly aligned vehicle has more chance of reduced driving costs in terms of petrol consumption, tyre life, steering equipment stress and overall structural damage. 
And of course, having a properly aligned vehicle is so much safer to drive.
Wheel Balancing
Different from a wheel alignment, Blair's Tyres can do this service by placing measured lead weights on the opposite side of worn tread spots on your unbalanced tyre. 
Unless you have a perfectly tuned wheel-tyre combination you may notice an odd wear pattern on your tyres or you may feel a vibration in the steering wheel, seat or floorboard at certain speeds.
Puncture Repairs
When you notice your tyres starting to wear, that is the time to think about buying new tyres to avoid the inconvenience and possible danger of a puncture. In the unfortunate event that this happens, call in to Blair's and have your puncture repaired.
When Blair's repair your tyre the repair is done to Australian Standards and is guaranteed for the life of the tyre.
Vehicle Servicing including Logbook Services
To gain that extra performance readily apparent from the moment you start the engine to drive away, Blair's Tyres only use quality parts and products.

Whether we are doing repairs, general servicing or logbook services, Blair's Tyres source the best parts for the best price.  

And don't forget to let us know if your new car is still under warranty so that we use only genuine parts.
Exhausts
Exhausts – all stores
When it comes time for exhaust repair or replacement, all stores at Blair's Tyres are fully equipped with standard mufflers and exhaust systems.
Supertone Exhaust Centre – only at our Narellan Store
But if you're after something special by way of a customised exhaust system, then call in and get a free quote from the people at our Narellan Store's Supertone Exhaust Centre. 
Supertone Exhaust Centre can repair or replace performance sports, truck or industrial mufflers and exhaust systems that are made from mild or stainless steel and range from quiet to street legal.
Brakes
To ensure that your vehicle's braking system remains safe and smooth, Blair's Tyres brake service can check disc brake rotors and pads as well as callipers and hardware.
If your vehicle has drum brakes we can inspect the brake drums and shoes, the wheel cylinders and return springs. We can also inspect the master cylinder, brake (hydraulic) fluid and hoses as well as the power booster. And we can check parking brake cables and do brake flushing.
Suspension
Suspension
When Blair's Tyres service your suspension system we can look for and replace worn or loose control arms, ball joints, springs (coil or leaf), shock absorbers or struts.

This is important to keep your wheels moving independently of the car while at the same time keeping it suspended and stable.

To prevent steering problems and to stop your vehicle suffering premature tyre wear we use only quality brands and heavy duty parts.
Axles & CV Joints

Axles and CV joints help maintain the position of your car's wheels relative to each other and to the vehicle body.

An easy way to see if you need axle repair is to slowly drive in tight circles.
If you hear a clicking or cracking noise, you may have a worn CV joint which must be repaired immediately. 

Blair's Tyres service axles and CV joints because, being a load bearing assembly, they are crucial to the safety of your vehicle.
Towbars at our Narellan Store
If you're thinking of a standard towbar or hitch receiver towbar for your vehicle, drop into our Narellan store and talk about the right towbar for your particular purpose and vehicle.

Whatever vehicle you've got, Blair's Tyres at Narellan will supply and fit the most appropriate capacity towbar from our range of reputable suppliers which include Carasel, Trailboss and Cosmopolitan.

All towbars fitted by Blair's Tyres Narellan include wiring & sockets and meet Australian safety standards.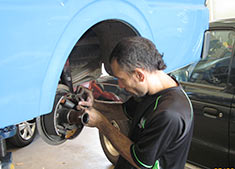 Blair's Tyres is there for you, whether you need assistance with suspension repairs & modifications, brakes, exhausts or wheel balancing.
Add all this to the fact that Blair's Tyres is an NRMA approved repairer using only quality parts and products and a member of MTA, and you begin to understand why Blair's Tyres really is the one stop shop for your car's overall maintenance.

For every full set of passenger tyres sold. Contact us for details.